Why not slip your journal into something more durable? Get a leather covered journal, or any book for that matter, by following this simple guide to journal making. If you're familiar with our YouTube channel, then you've likely seen the video we posted a few days ago about making one. Tonya, the star of the video, makes all of the covers for SLC and can make one in as little as 30 minutes. That's why she is sharing with you the simplest way to make a cover with the most basic supplies. 
Keep reading to check out Tonya's instructional video and a text version of the instructions below! 
---
As gift giving season approaches, lots of crafters are looking for good items to sell and journal covers are one of our favorites. These covers are the perfect project for those looking to make something simple, practical and unique. If you have minimal leather crafting supplies, this is the project for you! 
What you'll need: 
Please note that links will be SLC products that are recommended, but that doesn't mean it's the one you have to use! For example: if we link to white thread, that doesn't mean you can't use thread of another color. Or maybe we linked to a different brand of contact cement than you prefer. Take a look arounf the site, we tend to have more than one variety of each item. Links are meant to be a guide! What your project looks like in the end should always be up to you.  
Journal – whatever style or size you prefer is fine. Just consider the stiffness of the covers when you work on the leather pockets. 
Leather – we recommend light to midweight leather (2.5 – 6 oz.) 
Shears or a utility knife – you want to make sure your scissors will cut through the leather without messing up your edges. If you're unsure about your scissors, test them out on a scrap piece first. 
Ruler/Square – a square is optional but will make your job easier
Pen – we used a gel pen, but you can use anything that will show up on leather
Sewing supplies: 

Awl/Waxed thread and needle
Leather sewing machine with nylon thread – you don't want to use a standard sewing machine on leather. It will not go well. 
Let's get started: 
Watch the video below for instructions, tips on sewing and to watch Tonya make one herself! Check below the video for written instructions. 
---
Step One – Laying Out the Leather 
Lay your leather onto a flat surface with the finished side down. Place your journal onto your leather and ensure you have enough material to cover both sides of the book and the spine. If your leather has a pattern or grain, now is the time to consider how you would like it to look on your cover. If you plan to do any decorating on the leather, save that part for later.
Step Two – Create a Pattern
You have your piece and now it's time to create guides to cut. Use a winged divider or other tool that will create a clear indentation in the leather. A winged divider is ideal as you can trace the shape while creating space between the journal and your markings. You'll need some extra space around the journal, so if you plan to use something aside from a divider, keep that in mind. Something less than a centimeter will work fine for a journal with thin covers like ours.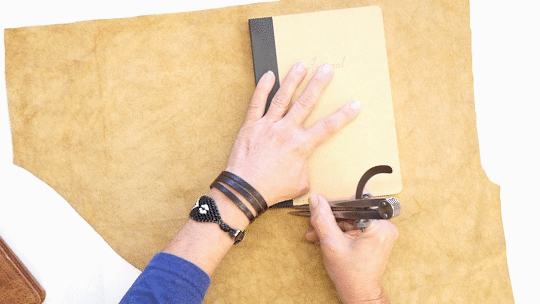 Step Three – Cut it Out 
You can use leather shears or a utility knife to cut out the cover. If you decide to use scissors that are not shears, test them by cutting a scrap piece of leather to ensure it won't fray your edges. An x-acto knife is an acceptable utility knife to use. Just be sure the blades are sharp! You can always clean up your cutting later and you'll likely have to do a bit of trimming when we get to the pockets so don't worrying about it too much. Get it as clean as you can in one go and move on.
Step Four – Create Pockets & Strip
After testing the fit of your journal and the leather you've just cut out, it's time to make the pockets that will secure the cover to the journal. Measure the covers of your journal and subtract at least one inch from the width. The amount you will need to take from the width will be dependent upon how stiff your journal covers are. Covers that won't bend much will likely require more space. Try clamping the leather together to test it out. 
Once you have your dimensions, grab another piece of leather and a ruler. 
Use a pen to mark the dimensions off on your leather. If you have a square, it will help you make sure that all of your lines are straight as they relate to each other. You don't have to use a square, but it will save you some time. 
Once you have your pockets drawn out, cut them using the same shears or utility knife from step three.  
While you're in the cutting mood, find a piece of leather that is long enough to wrap around the journal and tie! We used a piece that was six inches longer than the width of our journal. Our strip was one inch wide. You can also skip this step if you don't want a strip to keep your journal closed. 
Test your pockets out by placing them on your cover. Make sure they're inside the lines you have marked and that they're as even as possible. If you have any trimming to do, now is the time. 
Step Five – Secure your pockets 
Use contact cement on three edges of each pocket, leaving one log edge open for the journal to slide in. Apply contact cement to the journal as well for extra hold. This will be especially important for those who are hand-stitching. Try not to go too wild with the glue so that it's still easy for you to push a needle through. 
Place your pockets on the cover. Be sure to have the finished side of the leather facing you. We used a ruler to make sure that the pockets are resting on the cover evenly.
Step Six – Add your strip 
If you'd like to have a strip of leather secure your journal, it is time to add it to the cover. Apply glue to one end of the strip on both the finished and unfinished sides. Create a small hole between one of your pockets and the cover and place the strip inside. Have the unfinished side facing up. 
Step Seven – Time to sew! 
Now it's time to put it all together. As we've mentioned before, you can do this with a machine or by hand. Please note that using a regular sewing machine on leather will likely cause damage to your needle, if not the entire machine. We do not recommend using standard machines on leather, especially thicker leather. The same goes for hand stitching – using a normal fabric needle and thread are not your best options. 
As far as leather sewing machines, the machine you should use depends on your leather and sewing needs, but just about any leather machine will do as you will not likely be using very heavy weight leather. We used a Cobra Class 20 and #69 nylon thread. 
For additional sewing tips, we recommend checking out the video at this time stamp. Tonya talks you through testing your machine settings, getting around corners and securing your strip. 
For hand-stitching, we recommend waxed thread and leather needles. Sizes to be determined by you! If you've never stitched before, we offer detailed hand-stitching instructions for purchase or Denny will show you how for free on our YouTube channel. 
Step Eight – Try it out! 
Your journal cover is complete. Slide your journal in and see how it's fitting! Make your final snips, burns and adjustments.